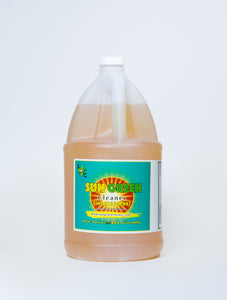 PINE DEODORANT
is an alkaline free cleaner/deodorizer designed for maintaining wet-look gloss floor finishes. The balanced detergent formula emulsifies soils for easy film free cleaning. Fresh pine fragrance provides a pleasant scent. Use it to clean floors, walls, counters, and desks, or wherever finger marks, oily film deposits, everyday dirt and grim collect. PINE DEODORANT cleans fast and leaves every surface deodorized and lightly scented with a fresh pine fragrance. May be used through an automatic scrubber.
reduced volatile organic compound content.

Multi-purpose cleaner. 1:128 dilution
1 gallon will dilute with water to make up to 512 quart bottles of multi-purpose cleaner providing end users with huge annual savings vs. ready-to-use products.

Restroom cleaner. 1:16 dilution
1 gallon will dilute with water to make 64 quart bottles of cleaner.
Safe, effective cleaning of all restroom surfaces. Powerful cleaning with a deodorizing, fresh orange scent.

Feature: 32 oz. spray bottle label available for this product. Refill-Reuse-Reduce!